Free COVID-19 Care Packages for the Transgender Community
BTAC provides the transgender community FREE COVID-19 Care Packages to help ensure that you have free access to lifesaving personal protective equipment (PPE) and preventive care.
Your health and safety truly matters to us. The safest place is at home but while state government is opening, we ask (beg)that you stay safe by practicing social distancing, washing hands and using face coverings. Thanks to individual donations and community partners, (4) kits are available in the care package for both our unsheltered and stay at home community.
Care Package Kits
PPE Kit: mask, hand soap, alcohol pads
Safe Sex Supply Kit: condoms,lube, dental dams and instructions on how to use a condom
Personal Hygiene Kit: toothpaste,deodorant,bath soap
Food Pantry Kit: non-perishable food items
We will be distributing care packages across the United States on a first come, first served basis and for as long as donated supplies are received.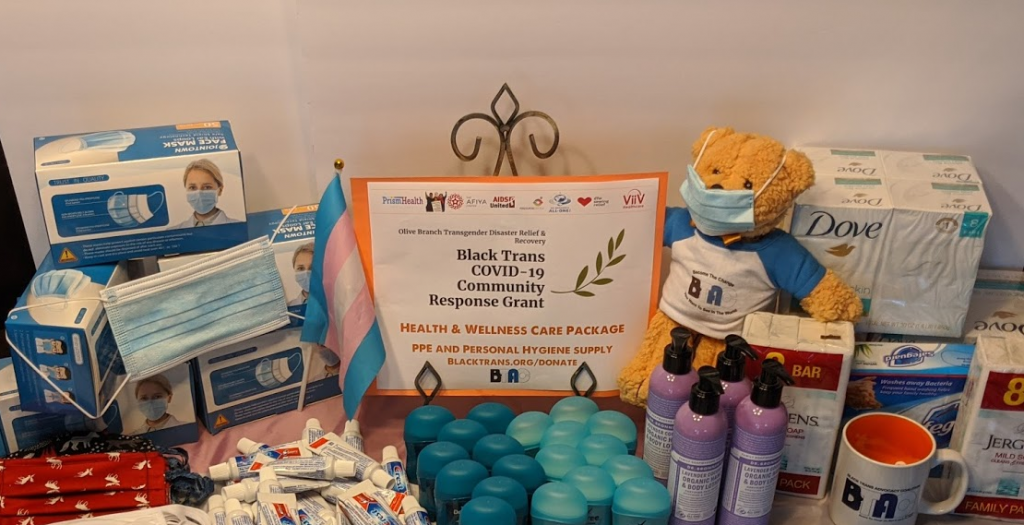 Need help with finding a mental health, substance abuse or hiv counseling & testing service provider during the coronavirus pandemic?
Reach out to our Trans Health Coordinator Renae Taylor  (they/them/their)
Office Hours: 10am-2pm cst Tuesday-Thursday.
Toll Free: 1 (855) 624-7715 ext 31
Email: resources@blacktrans.org
Reserve My Free Care Package
THANK You Black Trans COVID-19 Community Response Sponsors