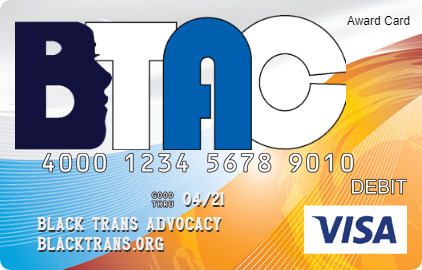 Black Trans COVID-19 Community Response Grant provides mutual aid funds to individuals at their point of need during a government declared crisis.  
Financial assistance is provided for emergency food, shelter, utilities, transportation and health care to ensure the basic needs of our most vulnerable populations are met. Priority is given to applicants who are:
Homeless 
Youth/Students
Golden Flame Seniors 55+
People living with HIV

We are now accepting applications online for the Black Trans COVID-19 Community Response Grant Program. Transgender individuals impacted by the corona virus in the United States are eligible to apply to receive a one time Mirco Grant of up to $125. Applications for the micro grant will be accepted until the end of the year. All applications must be received online.
Please note that submitting an application does not guarantee an award of a Black Trans Community Response Fund Grant. The number of grants made through this program is based on the amount of donations received from private donors, corporate sponsors and grant funders that support this emergency response effort. Approved applicants will be notified by email. Duplicate applications can not be accepted.
BTAC together with our community partners are coming together to do as much as we can to meet the needs of Black Transgender people.
We're asking for the highest of moral grounds. If you are not transgender, please do not apply for this grant. As a Black Trans community we have very little resources and during this crisis time we need non-trans folks to support us by simply not applying for this grant. Search your soul on this one and move accordingly!
It Takes A Village!
If you would like to donate to the community response grant fund please donate online here: https://blacktrans.org/covid-19-donate/
We have reached our limit. This application is now closed